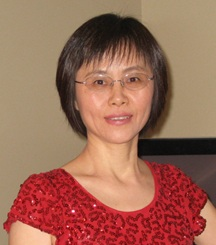 Computational Biologist
Mass Spectrometry Data Center
Biomolecular Measurement Division

Phone: 301-975-2501
Email: xiaoyu.yang@nist.gov
Fax: 301-975-2643
---
Dr. Yang has been working in Bioinformatics since 2001, primarily in the areas of Mass Spectrometry-based Proteomics and Metabolomics. Before she joined NIST, she developed DBParser software package for high-throughput Shotgun Proteomics data analysis at NIH in 2003. At NIST, she developed a distance-based clustering algorithm for creating consensus spectra for the NIST Tandem Mass Spectral Library of small molecules and peptides. She also developed peak annotation and other quality control tools for library examination. She created the first high resolution Tandem Mass Spectral Library of single protein digests such as HSA, and IgG etc.
2005 - Present: Computational Biologist, NIST
2003 - 2005: Research Fellow, NIH
2001 - 2002: Visiting Scientist, Avantix Laboratories, Inc.
Ph.D. Herbicide Physiology and Biochemistry, The Ohio State University, 2000
M.S. Computer Science, Wright State University, 2001